The WordPress WP Greet Box plugin creates an automated greeting message to your referred visitors when they read your blog. Yes, referred visitors from search engines, Delicious, Digg and a whole lot more. After activating the plugin, it supports up to 30+ referrer sources.
If you're a new or existing reader to my blog, you'll now see an additional panel below the post title.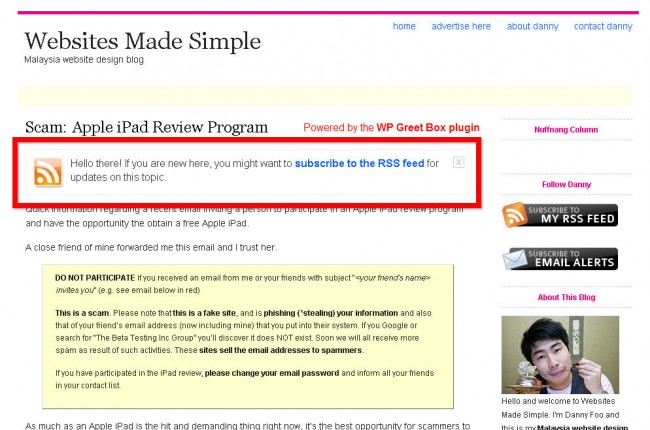 The other advantageous benefit of this plugin is you may enable an optional close button to this message. And note, this ain't no annoying popup window. I'd say it disrupts reading glow only a teensy tiny bit. 🙂
Other than this plugin, I'd like to note I also find one which highlights the keywords you used in order to reach a blog post very helpful. It quickly drops you hints whether or not the referred search result was accurate.
In addition to the above, blogs (or websites) with multiple authors should have an author introduction below the article. Kind of like this one from Smashing Magazine.
The profile not only would tell a reader who is the author but why, what, where and how this author could've been selected to write for you or your organization.
Have you installed or done any of the above for your blog yet?